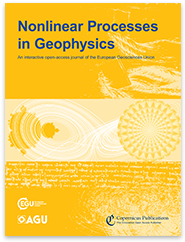 Executive editors: Ana M. Mancho, Daniel Schertzer, Olivier Talagrand & Stéphane Vannitsem
eISSN: NPG
1607-7946
, NPGD
2198-5634
Nonlinear Processes in Geophysics (NPG) is an international, inter-/trans-disciplinary, non-profit journal devoted to breaking the deadlocks often faced by standard approaches in Earth and space sciences. It therefore solicits disruptive and innovative concepts and methodologies, as well as original applications of these to address the ubiquitous complexity in geoscience systems, and in interacting social and biological systems. Such systems are nonlinear, with responses strongly non-proportional to perturbations, and show an associated extreme variability across scales.
All sections of NPG are more than ever eager to deal with big data and artificial intelligence with new sensing, analysis, and simulation technologies. These encompass approaches ranging from data-driven research to mathematical physics.












Notice on current restrictions
To show our support for Ukraine and in accordance with current European sanctions, we have introduced a range of measures relevant to our open-access publications process.
All fees for papers from authors (first, corresponding, or contact authors) affiliated to Ukrainian institutions are automatically waived, regardless of if these papers are co-authored by scientists affiliated to Russian and/or Belarusian institutions. The only exception to the waiver for Ukrainian authors will be if the corresponding or contact authors are from a Russian and/or Belarusian institution, in that case the APCs are not waived.
Due to restrictions for authors from Russian and Belarusian institutions that are necessary to comply with European sanctions, we recommend any authors from institutions in these countries to contact us on editorial@copernicus.org for more information.